Roasted Cauliflower Steaks with Raisin Relish!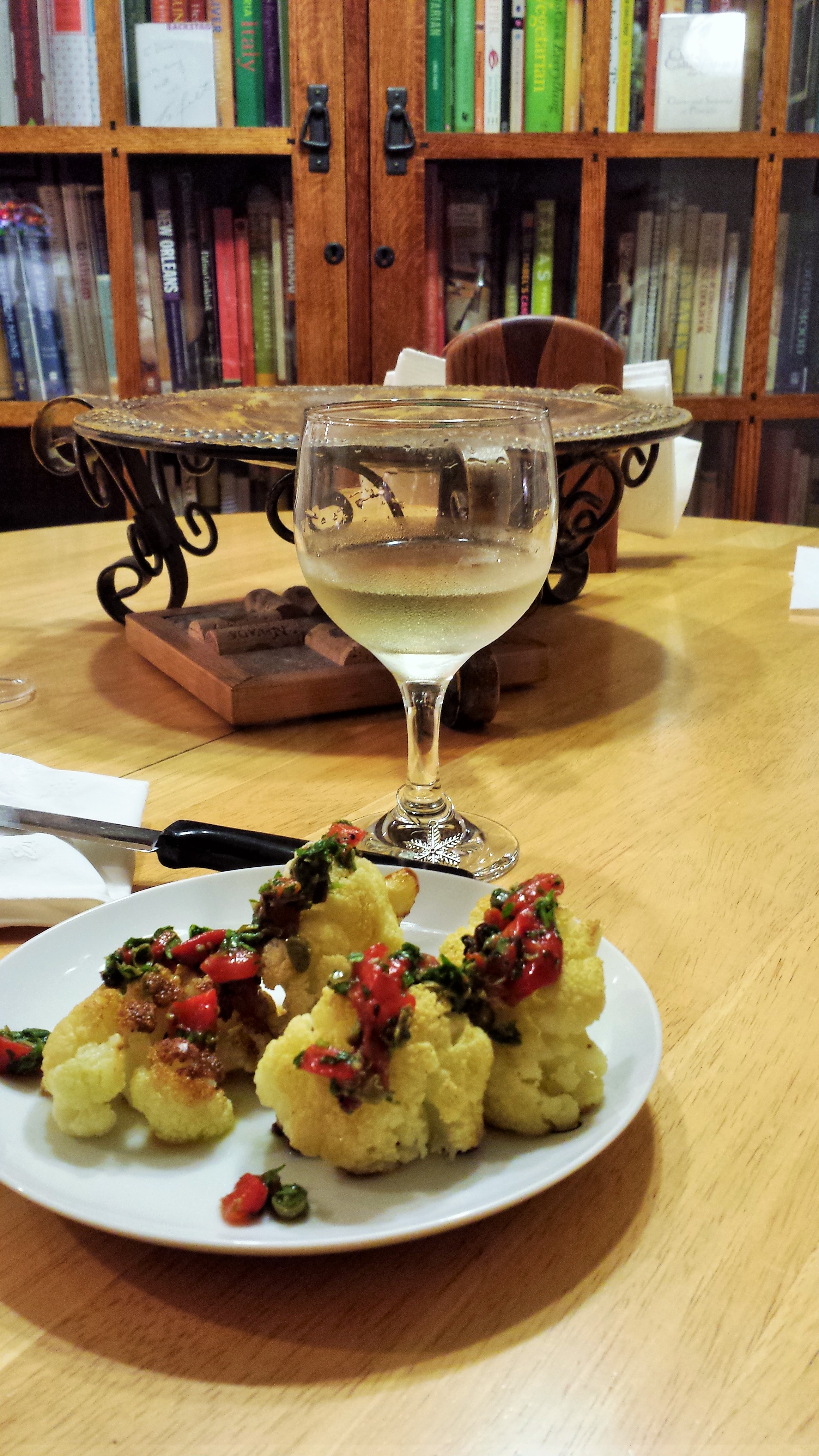 Roasted Cauliflower Steaks with Raisin Relish
Since I have not done a Recipe in a while I am long over due!
Relatively easy to make
Ingredients:
1/2 Cup of finely chopped roasted red peppers. If you do not have the time or energy to make it Trader Joe's sells the and all you have to do is chopped them
2 table spoons of raisins, regular or golden which ever you have at home again all you have to do is chop them.
2table spoons of capers, rinsed, drained and finely chopped (Trader Joe's has them in the jar)
2-3 table spoon of chopped Italian Parsley the fresher the better
2 table spoons of  Orange Champagne Vinegar again from Trader Joe's ( trust me this will make the difference)
Salt & pepper to taste preferably Kosher Sea Salt from Trader Joe's
1 small head of Cauliflower (about 1-2lbs)
2-3 table spoons of extra-virgin olive oil
Directions:
Preheat the oven to 400 degrees F combine all the above ingredients outside of the Olive Oil and the Cauliflower.
Wash & Trim the Cauliflower, then cut the head into 1 inch thick slices. if the  florets fall to the side do not stress. For the salt lovers this is the time to salt and pepper the Cauliflower ( I do not add since I love the flavor of the ingredient and I do not want the flavor of the salt)
Take a oven resistant pan pour the olive oil and put the cauliflower in brown on both sides for about 5 minutes each.
Then transfer the skillet to the oven and bake for about 20-25 minutes.
Once the cauliflower is easily pierced with a knife or a fork then spoon the relish over the cauliflower and serve immediately.
Depend how you do it it could be a main course or a side dish. I prefer it as a side dish.
If you are considering buying or selling a home, a luxury home, luxury investment real estate, luxury vacation homes, or luxury beach properties in Southern California, Los Angeles, Century City, Westwood, West Hollywood, Beverly Hills, Marina Del Rey, Venice or Malibu, feel free to contact me at 310.486.1002 or homes@endrebarath.com or visit one of my websites  at  https://www.endrebarath.com. I am a pet friendly realtor and I contribute a portion of my commissions to local animal res