Kuleto Winery: a must visit destination in Napa, CA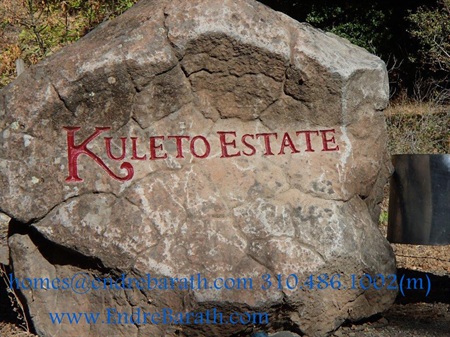 Kuleto Winery: a must visit destination in Napa, CA Often we look for excuses to make time to visit friends and places, because we are so caught up with our day to day activities and often we forgo these visits due to our dedication to our work. On the other hand being a Greater Los Angeles Realtor has its benefits.
One of those benefits immediately comes to my mind. You get to know your clients and sometimes a relationship blossoms and friendships develop. Well this is what happened here. For years we have been invited by our friends to visit their home. You would think with them living in Wine Country should be a no brainer for us to visit immediately. Needless to say, because I am a workaholic it was hard to break away and at the same time family issues that came up unexpectedly, prevented this from taking place sooner. Needless to say we finally went for a quick trip to visit our friends.  The short trip consisted of a visit from Thursday to Saturday. Keep in mind our next visit I will stretch it by a couple more days!  
At their suggestion we went to Kuleto Winery in St. Helena, CA. 94574. I must admit I have never heard of this Winery,( shame on me). Kuleto Winery is not just a great Winery it is an experience one must add to the "Bucket List". Those of you who read my Blog Posts know I love good wine and Kuleto Estates is more than that. Besides tasting some world class wines, it is an experience unmatched that I have ever experienced in wine tasting.
The Staff does not rush you, instead they pour ample amounts of wine and pair them with a great cheese assortment which enhances the experience. Needless to say you do not need to go to three to four Wineries as some people think you should. My advice is to you is, to visit one outstanding winery and forgo the mediocre ones. After all you can always buy those at home! Also after visiting one, trust me on this one, if you are not spitting out the wines you will not know how good or bad the next winery will be. (This is the voice of experience talking)
Kuleto Winery is high up above the Silverado Trail and the slow drive up is worth every minute. The property covers about 850+ acres of land with hills and valleys and two manmade lakes. Keep in mind without water there is no winery. Please check out the enclose link and take my word, that there was not one bad wine that I tasted, just some were better than others. http://www.kuletoestate.com/
If you are wondering if they ship to your State, rest assured that they ship to most States. Therefore you have no excuse not to buy and taste them. From what I understand after January some of the States that were on the "not allowed to ship" list will be allowed to receive wine. As far as I am concerned I can hardly wait for our shipment to arrive. We have ordered a few bottles of wine that we really loved, just to name a few: The Chardonnay, The Syrah, The Cabernet Sauvignon and a Pinot Noir. Keep in mind once the shipment arrives then I will be looking for occasions to drink them!
Now, if you are considering leaving the Greater Los Angeles area to move to Wine Country, call me to sell your home! If you are a consumer who is considering buying or selling a home, investment real estate, vacation homes, or beach properties in Southern California, Los Angeles, Century City, Westwood, West Hollywood, Beverly Hills, Culver City, Playa Vista, Marina Del Rey, Venice or Malibu. Feel Free to give me a call at 310.486.1002 or email me at homes@endrebarath.com or visit one of my websites at https://www.endrebarath.com Your Pet Friendly Realtor. I contribute a portion of my commission to Local Animal Rescue Organizations.