The Value of Branding: the most recognized Brand will insure long erm success!
The Value of Branding: The most recognized Brand will insure long term success!
As a Realtor I am always looking at Brands, since branding is considered a very important aspect of long term success in Real Estate. If you see a Logo or a combination of memorable Initials and a noteworthy Logo that is clearly an advantage you can capitalize on. That particular Realtor has a Recognition advantage over the other members of the real estate community with whom he or she is competing with. After all, if the potential seller remembers your brand or name, then it is a guarantee that you will be invited to the listing appointment.
When I say it is clear that you will be at the Listing Presentation, I guarantee it. Once you are in front of the seller or sellers now your knowledge and confidence must shine through or you are out the door without a listing. I have found that due to my branding and name recognition the majority of my clients list with me. The ones that do not is based mostly on the fact that we do not agree on the value of their property or the value of my service i.e.: my commission. Keep in mind I am a full service Realtor not a discount Realtor. After all I am THE LANDMAN and some people call me THE Reluctant Land KingJ
I have always been invited to a Land Listing Appointment on the Internet or Face to Face. The only time I did not get the listing was, when my assessment of what the property should be listed was way out of market range and I was unable to convince the sellers that they had very different assessment of what the true value was. The other times were, when they did not accept that my track record speaks for itself, hence what I charge for commission is worth every per cent over the norm they are accustomed to.
So now with that said, look at this picture. The Rolling Stones have the ultimate Name Recognition as well as the ability to attract multi-generational followers. When most people think of them they think of the Red Tongue and Rock and Roll music. I have seen them marketing everything you can imagine from Vodka to this bottle of wine.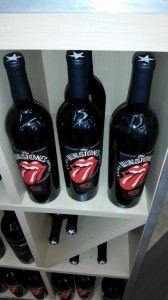 As most of you know I am a wine snob and even I considered buying the bottle, just on a side note NOT to drink it, but just to have the bottle with the label in my collection. Clearly I did not think the content of the bottle was worth what they were asking for it for consumption, rather for a collector's item I saw the Value. Keep in mind Miss Rolling Stone's Mega Fan Diane did not want it. I still might get it, now that is clearly a sign of good Name Recognition, Branding and the ability to convey a value.
So what are your thoughts about this subject? Do you think I am wrong?
If you are a consumer who is considering buying or selling a home, investment real estate, vacation homes, or beach properties in Southern California, Los Angeles, Century City, Westwood, West Hollywood, Beverly Hills, Culver City, Playa Vista, Marina Del Rey, Venice or Malibu. Feel Free to give me a call at 310.486.1002 or email me at homes@endrebarath.com or visit one of my websites at https://www.endrebarath.com   Your Pet Friendly Realtor. I contribute a portion of my commission to Local Animal Rescue Organizations