Official Wiley Update about our back yard kitty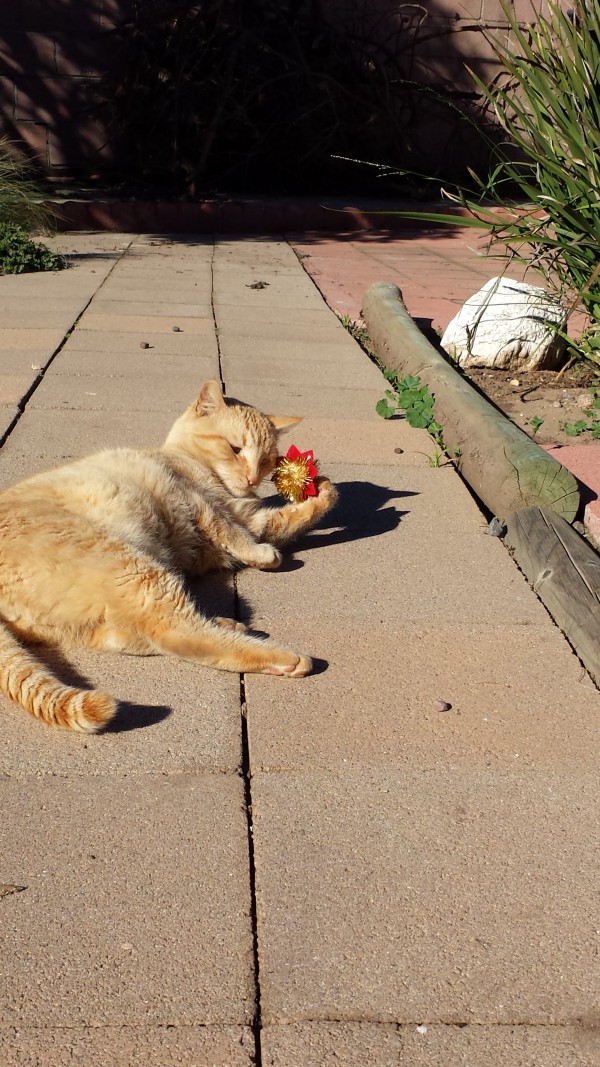 Due to numerous private inquiries here is the Official Wiley Update. Wiley our back yard kitty has settled in quite well.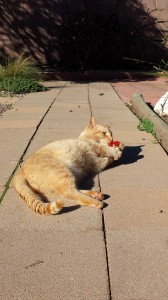 He is eating well as you can see from the pictures. He gets breakfast around seven thirty am, (in case you are wondering no I do not serve breakfast, that is Diane's routine). She gets woken up by the three indoor kitties around 6am. Wiley sleeps until the sun rises, she does not hear Wiley yelling, demanding his breakfast. Once all the kitties have been fed than Chachi her dog gets her undivided attention for breakfast. Now on the other hand I handle the dinner routine. Of course it is done in reverse, Wiley starts yelling: "where is my dinner" and this starts the dinner routine.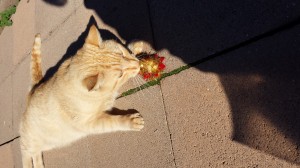 We are at the point where he demands affection. He wants to be petted before, after and during his meals. Now keep in mind in spite of the fact that his back yard is not completely his anymore he still loves us. There are times he has to share with Chachi our dog. They are working things out, when Chachi is in the back yard, then Wiley jumps on the fence and if it looks like it will take more than what he would consider acceptable time then reluctantly he goes to the neighbor's yard. Somehow he always manages to forgive us for disrupting his routine and returns for dinner.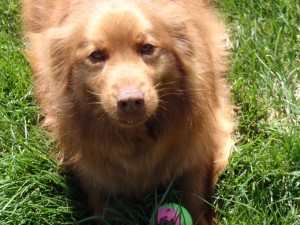 Thanks to being an Internet Celebrity, Wiley has many far away as well as local friends who have been sending him toys. Those of you who sent Wiley toys, he wanted to thank you personally and let you know he truly loves playing with them. If you do not believe me check out these pictures. Well now that you had the latest update, Chachi is calling me that it is time to disrupt Wiley's back yard routine.
If you are considering buying or selling a home, a luxury home, luxury investment real estate, luxury vacation homes, or luxury beach properties in Southern California, Los Angeles, Century City, Westwood, West Hollywood, Beverly Hills, Marina Del Rey, Venice or Malibu, feel free to contact me at 310.486.1002 or homes@endrebarath.com or visit one of my websites  at     https://www.endrebarath.com. I am a pet friendly realtor and I contribute a portion of my commissions to local animal rescue organizations.