Making friends is not an easy process if you are a Stray Cat!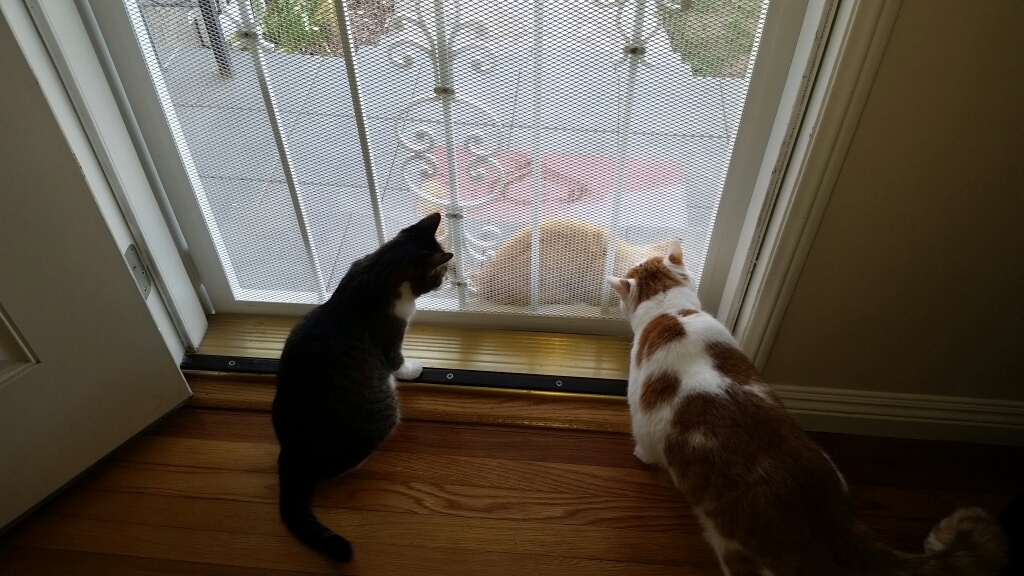 Making friends is not a fast and easy process if you are a Stray Cat. Update on Wiley!
Wells as most of you know we have three indoor cats and there is a stray we have been feeding and socializing. The hard part is done Wiley has been neutered. Sadly during the recovery process we learned that he would be difficult to turn into an indoor cat. So we are making small step in that direction. For those of you who are not familiar there is a very short window to human socialize a stray kitten? It has to be in the first six to eight weeks after that the odds become very slim.
Needless to say every day there is some progress to report. As you can see here our indoor cats are learning to get along with him through the screen door. Unfortunately we want to move the process along faster but it is not that easy. He is talking to us and starting to trust us. The other four legged critters are finally at the point where they are not hissing at him or charging at the back screen door. Oh on a side note we need to get a security screen in the back as well so we do not accidentally create a tragedy i.e.: that the indoor ones would lunging after him and get hurt or worse run out after him.
Keep in mind we are getting close to having Diane's dog in the house hold too and he sure would run and chase after Wiley as we saw it a few weeks ago. (Needless to say that is another post)
Anyway Diane made him a bed and we bought him an A-Frame house to keep him warm during the cold nights. He is OK with the bed but not with the house yet…. All in good time we keep telling ourselves. So there you have it until the next update!
If you are looking for a Pet Friendly Realtor to represent you in the purchase or the sale of your home, please reach out to me directly!
If you are a consumer who is considering buying or selling a home, investment real estate, vacation homes, or beach properties in Southern California, Los Angeles, Century City, Westwood, West Hollywood, Beverly Hills, Culver City, Playa Vista, Marina Del Rey, Venice or Malibu. Feel Free to give me a call at 310.486.1002 or email me at homes@endrebarath.com or visit one of my websites at https://www.endrebarath.com   Your Pet Friendly Realtor. I contribute a portion of my commission to Local Animal Rescue Organizations