What is the connection between a Westchester Realtor, a Westchester home owner, a squirrel and a dog?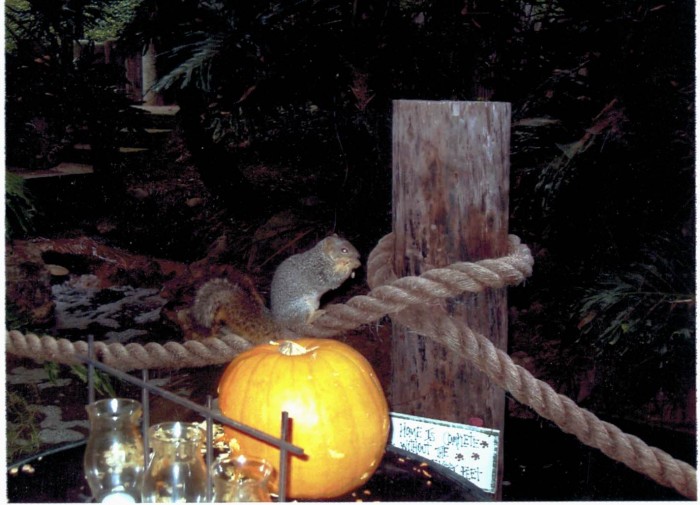 What is the connection between a Westchester Realtor, a Westchester home owner, a squirrel and a dog? Before I go into all that, let me digress a bit.
Squirrels are interesting creatures, some people love them others hate them, I find them very smart and innovative. My fascination goes back to my childhood as my parents always considered them as their pets. I remember living or should I say visiting Waterbury, CT on Bunker Hill where my parents had a home, because by this time I was in College and I would only drop in during school breaks and I could see the love and affection they had for these little animals. My mother and father would name each one based on their characteristics, or should I say the names were based on either by their behavior or their physical appearances.
Ironically one time, the Squirrels broke into my parent's home, because they observed where my parents kept the food. Needless to say the squirrels cut the screen door open with their sharp claws and had a great meal. Although it cost my father close to $75 to rescreen the door, they were not mad at them. Instead my parents forgave them and started feeding them larger quantities of food. Clearly the word got out in Squirrel Nation and not wanting to exaggerate at one point my parents were feeding close to 15+/- squirrels daily.
Every time they drove home and if on a nearby busy street they saw one that was hit, they would watch to see which one of the squirrels stopped coming by and they would mourn the little creatures since they knew them by name. Anyways enough reminiscing about the "good old days".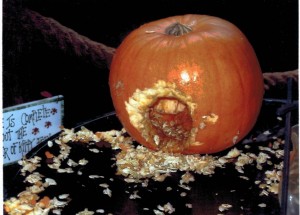 Being a home owner, we have a couple of our "own squirrels" who keep visiting our back yard and steal the oranges right off the trees. I have written a post about them previously, when I saw them in action. Not only do they eat oranges, but they also raid one of the bird feeders. One time I saw one perched right in the middle of the feeding tray. Needless to say I was so engrossed in watching the little guy I could not get to my camera in time. I was wondering how he could jump from the fence into the tray. Well later I had the opportunity to observe, he actually climbed up on to the tray via the Shepherd's Hook. On a side note we have three bird feeders, not counting the Ron Marshall artwork which is perched on one of our outdoor tables as decoration to the back yard.
So the other day I was in the back yard with Chachi our dog and needless to say as I am checking my emails, I see him running and barking. (This is very unusual because he seldom barks) My first reaction was poor Wiley (our outdoor kitty) but then I realized that he was chasing one of the Squirrels. So my thought is "why can't we get along"? It is interesting to see how the animal kingdom interacts with one another.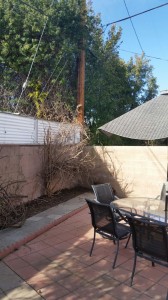 I have also included a few photos of earlier misdeeds by Squirrels when we lived in Marina Del Rey, CA. Clearly they are very innovative and know how to give themselves good nourishments, just by being smart and creative.
Thanks to being a Realtor I have the luxury of working out of my home and observing all these things. Since I have all the tools and technology I do not need to be in the office, unless I have a very important meeting or the regular Office Meeting to go to. The rest of the time if I am not on appointments I have the privilege of observing nature as I am on the phone or writing emails. So now you know what the connection is between, Westchester home owner, a squirrel, a dogs and a Westchester Realtor. Clearly having the opportunity and the privilege to interact with nature in the urban environment is very rewarding. Here is one grateful Realtor who can enjoy his surroundings and do what he likes to do, sell homes and properties in the Greater Los Angeles area.
If you are considering buying or selling a home, a luxury home, luxury investment real estate, luxury vacation homes, or luxury beach properties in Southern California, Los Angeles, Century City, Westwood, West Hollywood, Beverly Hills, Marina Del Rey, Venice or Malibu, feel free to contact me at 310.486.1002 or homes@endrebarath.com or visit one of my websites  at     https://www.endrebarath.com. I am a pet friendly realtor and I contribute a portion of my commissions to local animal rescue organizations.