The Beverly Hills City Sign is one of the most photographed signs in the world.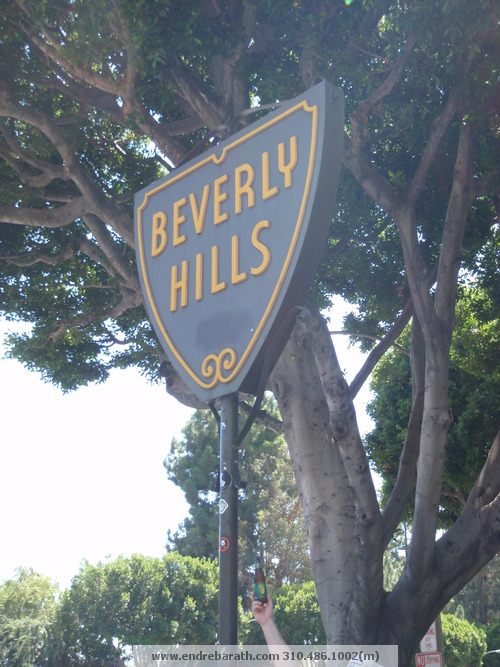 The Beverly Hills City Sign is one of the most photographed signs. Depending which statistics you look at, either the " Hollywood" sign or the "Beverly Hills" sign come in first or second.
People from all over the world spend their life savings to make the homage to the greater Los Angeles area to visit 'Beverly Hills'. Amazingly enough, my real estate office is right on the center of all this tourist attraction. I have been in the Beverly Hills longer than I can remember. Being a Beverly Hills Berkshire Hathaway Realtor is an honor and I appreciate it and am grateful every day for the privilege. Having been in the Beverly Hills with another company next door to one of the Iconic Restaurant of Wolfgang Puck and be able to take clients there for a quick lunch meeting or a thank you dinner is indescribable, I count my blessings. Walking distance from my office to Rodeo Dr. and all the fantastic Restaurants is hard to describe and verbalize.
Sometimes we take things for granted, such as that there is a Blizzard on the East Coast is having and here we are walking our dog and saying 'wow we did not need that sweat shirt it feels warmer tonight than last night'. Beverly Hills is a small town with a big footprint. Many people do not realize there is a difference comparing Hollywood & Beverly Hills. The glitz of Hollywood is in the movies and on TV. The glitz of Beverly Hills is in the streets. Rodeo Dr. & Wilshire Blvd intersection probably has had more tourist visits and have taken more pictures of than any other street corner on the Globe. Just on a side note this famous intersection is less than 500 yards from my office.
When you see the Beverly Hills Sign you know you are near the Platinum Triangle. This is the hub where the world's money connect and deals are made in coffee shops, restaurants in front of millions of oblivious tourists who are too busy looking for Hollywood Movie Stars. Just on a side note in case you did not know, the sister city of Beverly Hills is Cannes, France.
If you want to experience Luxury from close up, no need to go to Hollywood or Malibu, you will find it all here in Beverly Hills. The fantastic Hotels, shops and restaurants all give you the feeling of luxury and ultra-luxury. If you see this sign you know you have arrived to one of the most magical and luxurious cities anywhere in the world.
So if you come visit make sure give me a call and let's talk real estate, or better yet let's discuss investment opportunities in Beverly Hills or vicinity.
If you are considering buying or selling a home, a luxury home, luxury investment real estate, luxury vacation homes, or luxury beach properties in Southern California, Los Angeles, Century City, Westwood, West Hollywood, Beverly Hills, Marina Del Rey, Venice or Malibu, feel free to contact me at 310.486.1002 or homes@endrebarath.com or visit one of my websites  at  https://www.endrebarath.com. I am a pet friendly realtor and I contribute a portion of my commissions to local animal rescue organizations!