Baked Stuffed Artichokes by Endre Barath, Jr.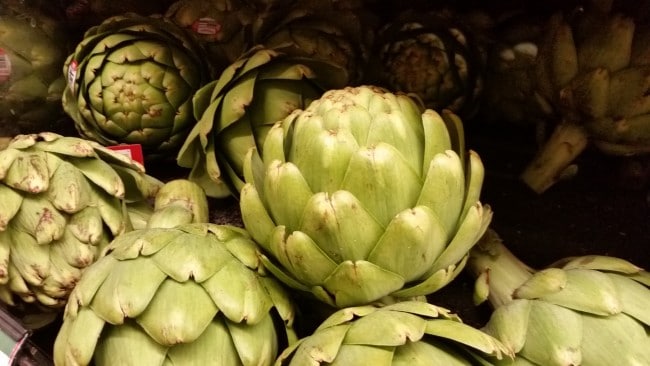 Baked Stuffed Artichokes by Endre Barath, Jr.
There are many ways Artichokes can be baked and stuffed. This Recipe is being posted because my friend Alexandra Seigel, was interested on what my Recipe is for 'baked and stuffed artichokes'.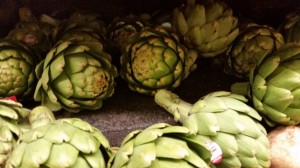 Before I start with the Recipe, I must give a little background, in case you are not familiar Artichokes they are loved by almost every person in Italy. The Romans go a step further, they have what I call an "Adoration with Artichokes".
Carciofi alla Romana (Stuffed Artichokes Roman Style) one of my favorite actress and the love of my father's life: Sophia Loren had a great cookbook and I am lucky to be the owner of it. Taking her Recipe, mixed with " Culinaria Italy" another great cookbook mixed with Recipe from the cookbook "The Heart of Sicily" and a couple other ones that I might forget is where my recipe comes from. Clearly it is a combination of many fantastic Recipes tailored to our taste.
So with that said, Artichokes begin to ripen in late February or early March and then they are at their highest price points around the world. Then they drastically drop in price all the way through May because it is later in the season.
There are many cooks and chefs, who just stuff them with garlic and oregano and douse them with olive oil then set them in the oven or grill them on coals. Perfectly fine way to do it.
I love to go to the next level!! So with that said, I like to take some fresh Alaskan king crab, or if nothing else is available a can of crab meat from Trader Joes, (keep in mind this is worst case scenario) mix it with parmesan cheese preferably Regiano Parmesan Aged Cheese and Cold Pressed Extra Virgin preferably unfiltered Olive Oil. (Trust me the flavors make a difference what you use as ingredients, the better the ingredients, the more flavors you get) one egg mix all this together with some bread crumbs, Italian flavored are my favorite or do it from scratch.
Then there is also another aspect to consider, what type of Artichokes would you like to use? The Purple Violetto di Toscana is a medium sized and very tender artichoke. The Omanseo artichokes have a large round head and are thornless. Then there is the Catanese variety an elongated in shape and also thornless. In all fairness the Violetto usually can be found at Trader Joes or Whole Foods. The others can be found at all the regular Grocery Chains. Clearly the Violetto is my favorite but I will use any and all to make this recipe.
Traditionally most people make it with the large or Roman variety of Artichokes many of you know them as Globe Artichokes… These you need to trip the rough leaves off as well as the stems on the bottom so you can place them flat on a baking sheet. As I do the trimming I like to place the Artichokes in cold water with fresh lemon juice and slices of lemons floating in the water. (This will insure that the vibrant colors do not turn dark) Once you got down to the inner core of the Artichoke cut about 1/3 of the top off. Using a spoon scrape the inner prickly leave out.
Then at this step I take chicken stock or vegetable stock, depending what is available or who is coming over for dinner. I basically steam/boil the artichokes for about 20 minutes until they get softer and the flavors absorb into the vegetable.
In a separate bowl while this is taking place I mix the following together:
Breadcrumbs, a few cloves of minced garlic, fresh chopped Italian Parsley, egg, Parmesan Cheese, crabmeat, lemon juice, lemon zest, extra virgin olive oil and a splash of Soy Sauce. (Keep in mind I do not use salt or pepper but many people do so that is optional)
In the next step, I take the Artichokes out, let them cool a bit so I can work with them and stuff the mixture into the cavities of the Artichokes.
Then into the oven they go around 400 degrees for about 20-30 minutes maximum depending on size. In the last five minutes I sprinkle some more parmesan cheese on top.
Once I removed it from the oven to cool a bit I drizzle some Truffle flavored Olive Oil on top.
Let me know what you think?
If you are considering buying or selling a home, a luxury home, luxury investment real estate, luxury vacation homes, or luxury beach properties in Southern California, Los Angeles, Century City, Westwood, West Hollywood, Beverly Hills, Marina Del Rey, Venice or Malibu, feel free to contact me at 310.486.1002(m) or homes@endrebarath.com or visit one of my websites  at  https://www.endrebarath.com.  I am a pet friendly realtor and I contribute a portion of my commission to local animal rescue organizations.