The Average Days on Market in Marina Del Rey CA is down by 44%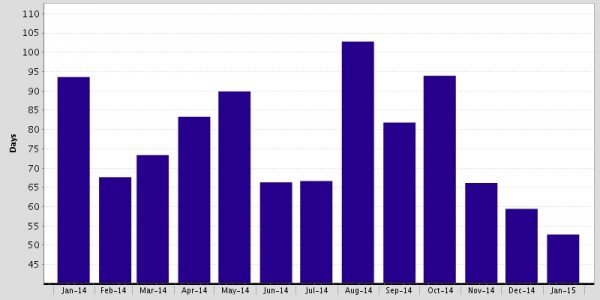 The Average Days on Market in Marina Del Rey, CA is down by 44%. That is clearly an indication of the fast paced activity of the Marina Del Rey Condominium Market. Coupled with Price increases of 5% month over month in January, then the fact that the Under Contract Activity has increased by 20%. Now add the fact that the days have decreased from 94 days on the market in January 2014 to 53 Days on the Market in January 2015 is virtually hard to fathom.
Clearly the Buyers of Condominiums in Marina Del Rey are not hesitating but jumping in with confidence and knowledge of what is to come in the next few months.
In Marina Del Rey, CA 90292 The Under Contract Properties, i.e.: the Condominiums are up by 20% year over year. In other word January 2014 vs. January 2015 there are 20% more properties in Pending status. This is a clear indication that in spite of the Price Increases the buyers see a value in purchasing Condominiums in Marina Del Rey,CA. 90292. Under Contract Property statistics are indication of how the next couple months will look like. To me it shows that even though it is still technically the winter,  selling season is behaving as if it was the Spring Sales Market already. Not only is this a sign of improved consumer confidence, but it is a direct result of the artificially reduced interest rates. The buyers are savvy and recognize the value of their buying power due to the low interest rates           If you are considering buying or selling a home, a luxury home, luxury investment real estate, luxury vacation homes, or luxury beach properties in Southern California, Los Angeles, Century City, Westwood, West Hollywood, Beverly Hills, Marina Del Rey, Venice or Malibu, feel free to contact me at 310.486.1002 or homes@endrebarath.com  or visit one of my websites  at  https://www.endrebarath.com.  I am a pet friendly realtor and I contribute a portion of my commissions to local animal rescue organizations!